Best ways to promote an Educational Institute

Educational institutions are a key aspect of a nation's development and progress. This is precisely why there are numerous universities, colleges, schools, coaching classes, and other institutions in the country. However, getting students to enroll in your institute is no easy task, especially for institutions that are still in the growing phase. This is where marketing for the university, college, etc needs to be done.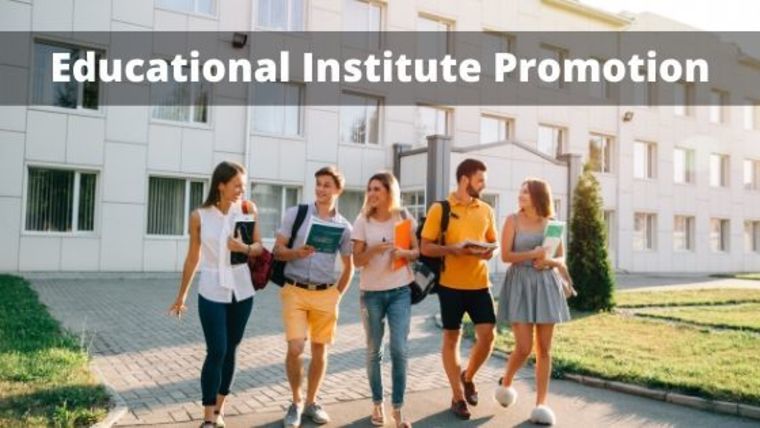 Education industry marketing helps your institute to attract more students and parents, and also helps develop your brand image. As with other businesses, there are two ways of promoting an educational institute -
Digital Marketing
Traditional Marketing
Digital Marketing for Educational Institutes
It's close to impossible that a potential student or their parents are not internet users. In this era, taking your marketing online is the smartest move. By performing your educational institute marketing online, you can reach your target audience with great ease. Several schools, colleges, etc have already started using the services of digital marketing agencies to effectively communicate with the students, parents, etc and leading to a higher rate of enrollment. Let's take a look at some of the techniques in this -
SEO strategy

What is the first place on the internet most people search for something? Search engines! With Google being the most used search engine, getting your institute's website ranked high on Google and other search engines is the best way to increase your visibility. This is why SEO or Search Engine Optimization is the most important aspect of a digital marketing strategy.
SEO consists of two halves, the on-page optimization, and off-page optimization. On-page deals with optimizing the content on your website. However, off-page refers to the process done on other external websites. With the help of these, digital marketers focus on increasing your visibility and attracting more visitors to your institute's website. Now, these can involve creating SEO optimized content on your website, link building, and much more. Another reason why SEO is important for your education institution is because of its long term effects. Performing SEO on your website and then continuously monitoring and optimizing it will get you immense outputs in the long run.


"No website can stand without a strong backbone. And that backbone is technical SEO." - Neil Patel
Content Marketing

Content is the core of a digital marketing strategy. Generating quality content that is also optimized as per content marketing strategies are essential to get traffic into your page as well as to make sure that your visitors follow up with you. You can proceed to do this by generating educational content such as tutorials, eLearning content, developing informative articles, etc. For example, if you provide an MBA course, you can write about 'Future of Marketing' or if you provide graduation courses you can write about 'career after 12th'. You can check how Travind has targeted students by writing about
Career In Travel And Tourism After 12th
.
When it comes to educational institutions, you have to assume that every student or their parents are regular smartphone users. Well, this assumption is quite possibly the truth instead. In such a scenario, people prefer to surf the internet on their phones. This is why you have to ensure that your content is mobile-friendly. This can be done by the mobile optimization of your website. Your potential students or their guardians will then be able to view your content on their smartphones easily.

Optimal use of Social Media

With Facebook, Instagram, and numerous other social media platforms ruling the world, almost every student is bound to be using these. This makes it the easiest platform for you to market your institution. By using social media marketing techniques, you can reach out to your audience faster than ever. Social media optimization deals with increasing your brand image and visibility by creating social media pages, using tweets, hashtags, and much more. A huge benefit of social media is that anything you post on it can be shared and re-shared to thousands of people. In fact, these days, nothing spreads faster than the material on social media. You can even share photos and videos of your institute, the campus, the various events taking place, etc. that can help in attracting students easily.


"Social marketing eliminates the middlemen, providing brands the unique opportunity to have a direct relationship with their customers." - Bryan Weiner
Short-Video Making
A picture speaks a thousand words. If that's the case, imagine the power of a video. In a time when people are always on the move, conveying your message through videos is the best possible way. A video marketing agency specializes in generating unique, engaging videos for your educational institute so that your viewers can simply watch the video instead of having to strain at a text.
Now, these videos can be anything from the testimonial of students, tutorials, or even short concept explainer videos. What's more? Remember social media? Well, videos are easily published and shared on YouTube, Instagram, and other major social media as well as video platforms.
Online Advertising

Apart from all the technical solutions to digital marketing, another simple yet effective method is online advertising. By using PPC campaigns optimization (Pay Per Click), you can gain more traffic into your website. You can place these ads on various websites that are relevant to your educational institute. However, these are not limited to websites. In fact, a major advantage of paid online advertisements is that you can place the ads on social media as well.
Facebook and Instagram advertising

With extensive targeting options, social media giants Facebook and Instagram are the perfect platform for your online ads. This is further made better by the fact that since Facebook owns Instagram, you can place the same ad on both the platforms together.
Google Adwords
How would you like for your ads to be shown among the top of the Google search results? With the help of Google Adwords aka Google Ads, you can do this easily. With this, you pay for a specific keyword related to your page. Now when a user searches for this keyword, your ad will be shown among the search results. This is a much faster, short time result technique used in digital marketing.
Youtube Ads

Most videos on YouTube begin with ads. By using YouTube ads, you can make sure that your ads are played when a user views videos of a specific topic. Being the largest video platform, YouTube is a big market for you to gain potential students.
Tik Tok Ads

Having a user base of more than 500 million people and with a vast majority of these people being of the age less than 30, Tik Tok is ideal for marketing your educational institute. This is further complemented by the fact that compared to other platforms, Tik Tok currently has fewer ads on it. This opens up a great opportunity for your institute to create your ads on Tik Tok.
"In advertising, not to be different is virtually suicidal" – Bill Bernbach
Forum Writing
Forums such as Quora, Medium, Reddit, etc are vastly used by people who are looking for answers. Students and parents have a number of queries regarding educational topics. By answering questions on Quora and other forums and providing backlinks to your website, you can be assured to increase the number of visitors to your page. However, ensure that your answers are relevant, informative, and engaging. These can be answers to career-related questions, academic questions, etc.
Implementing Email Marketing
Email marketing is till date one of the most effective methods of digital marketing. Being a more professional platform, emails are widely appreciated and used by students worldwide. An effective email marketing strategy will help you reach out to a broader audience with a better chance of convincing them to join your institution. Email marketing allows you to send out personalized emails on the basis of the details provided by the students or their parents while opting to receive promotional emails. And since emails are easily accessible on mobile phones, people are almost always likely to view them.
Arranging Webinars
Webinars are an advanced marketing technique that can be used to achieve great results. Webinars are simply sessions such as a seminar, meeting, etc, that are attended by an online audience. While choosing to take up a course or join an institute, parents, and students will have a number of queries. Arranging webinars on specific topics or even a Q & A session for them will allow you to connect to a wide audience on a much more personal level. While arranging webinars, you can focus on a wide range of topics. A few examples would be 'future scope of the travel industry', courses after 12th arts', etc.
Traditional Marketing for Educational Institutes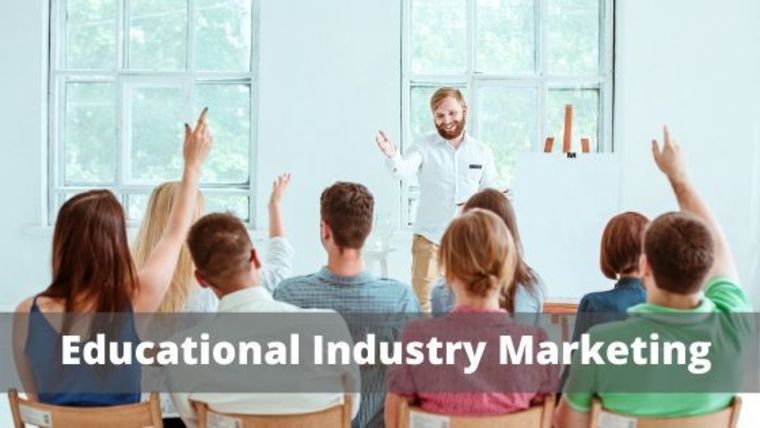 For over a hundred years, the one basic technique to attract customers is traditional marketing. Even in your case, offline marketing for educational institutes is quite effective. No matter how much technology has advanced, basic human nature hasn't changed. Traditional marketing techniques take this into account and use them to gain more inquiries and in turn, enrollments.
Hoardings and Banners
The simplest form of traditional marketing is using hoardings, banners, and billboards. By using the idea of more images and less of text, these signages make sure that they grab the attention of the people easily. You can create attractive, yet informative banners and hoardings and place them in strategic locations. These can be anywhere from highways to even the small side lanes.
Arranging Seminars
Similar to the previously mentioned webinars, seminars offer a significantly more personal form of marketing. By arranging seminars on various educational topics, you can convince your audience why joining your institution for a particular course can be beneficial. You can also hold Q & A sessions to clear the doubts in the minds of potential students and parents, which in turn works in your favour.
"Don't be afraid to get creative and experiment with your marketing." - Mike Volpe
Print Ads About Educational Institute
A much more interactive and connective method is using print media. These can be newspaper inserts, flyers, brochures, magazine ads, etc. Regardless of how much people prefer smartphones, people still love to read the old fashioned way. Creating a catchy advertisement for your educational institute and publishing them in newspapers, flyers, and other print media can grab the attention of the reader, which in turn increases your inquiries and enrollment.
If attracting students to your institution is your goal, there are a number of marketing techniques that can be followed. Both digital marketing techniques and traditional marketing techniques are quite effective in increasing visibility and sales. However, when compared between them, you can see that digital marketing is in fact, a much more cost-effective approach. On top of this, unlike traditional marketing, digital marketing takes significantly less effort too. WGBL is a digital marketing agency with immense experience in helping several educational institutions through digital marketing as well as print media services. If you're looking to market your institute and gain more enrollments, you can reach out to us today!