Online Grocery Marketing Strategy
Grocery shopping has diversified today. Online grocery shopping is one of the most convenient ways to do your groceries. Due to the growing popularity of this business model, several players have entered the online grocery industry. In order to succeed in this industry, one needs to have a strong online grocery marketing strategy. If you can reach your target market in an efficient way and provide excellent services, your customer base will grow faster.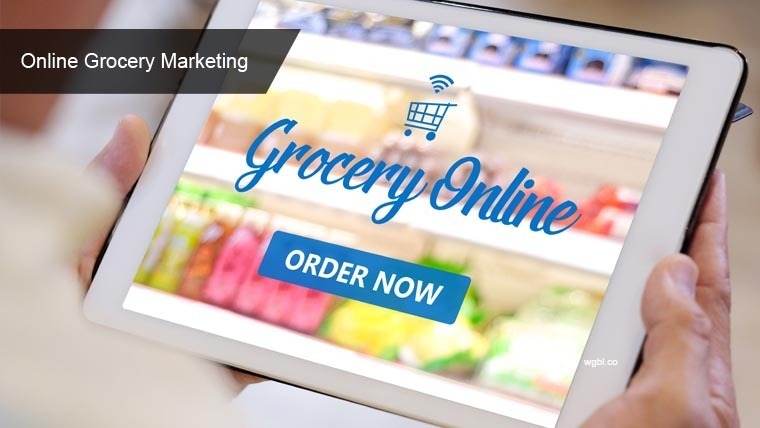 The grocery marketing strategy includes various online and offline marketing strategies. For instance, SEO strategy, email marketing, banners and hoardings, newspaper advertisements so on, and so forth. Grocery marketing ideas have to be creative and innovative in order to attract the attention of people and get a large customer base.
Here are two ways of promoting grocery -
Online Marketing
Offline Marketing
Through this article, we'll focus more on online marketing.
Online Marketing for Grocery
Online grocery shopping is the next big revolution. Today, you can get almost everything by the click of a button. Online Grocery shopping is a very convenient service for most of us today considering our busy lifestyles and hectic schedules. Due to the increasing competition among the online grocery stores, grocery digital marketing has gained immense importance. If the digital marketing strategy of your grocery store is strong, you will definitely get the most orders and your business will grow rapidly.
A grocery marketing strategy is basically a strategy by which your website gets the most amount of traffic. Digital marketing strategies for grocery stores include email marketing, social media optimization, SEO strategy, so on and so forth. If these strategies are used in sync with each other, they can give you some of the best results in a short period of time.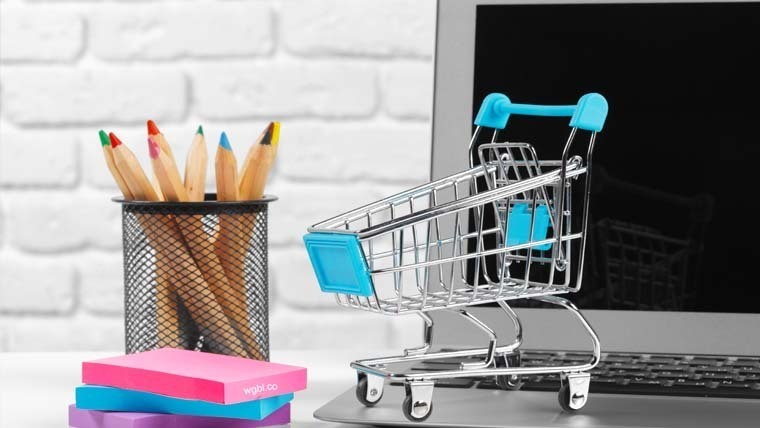 SEO Strategy

Search engine optimization (SEO) is an important component in gaining visibility online. Most of us search any queries, shops, products, places on Google. Google has become an inherent part of our life. It is highly likely that prospective buyers will search for grocery stores on Google to check which are the best options, closer to their house and so on. By on-page optimization and off-page optimization, you can make your pages rank higher in the google search results. When your page appears at the top when a related term is searched, the chances of the user clicking on it and approaching you are quite high.
Local Optimization
Local Optimization is essential when it comes to Grocery stores. Local Optimization is basically the search results that come above the organic search results. This often includes information about your institute including the address, contact number, and even directions to the location. It is necessary to perform local optimization on your website to rank in the local listings. For grocery shopping, this may also be very beneficial.
Optimize Social Media
Social media is a great platform for marketing for almost all kinds of businesses today. Social media marketing can be used to build strong relationships with already existing customers and prospective customers. Social media platforms should be easily accessible from your online grocery store. If a customer likes something on your social media, the engagement and reaches of your brand automatically increase. Social media optimization is, therefore, a necessary part of marketing today. One other very important feature which your social media should have is the ability for one customer to share the picture/post with others. This makes the shopping experience a hassle-free and enjoyable experience.
Email Campaigning
Even though Social media is one of the pillars of marketing, email marketing is also very effective. Having up to date email lists is essential for a brand. The email campaigns shouldn't be too lengthy. Not many today have the time and patience to read long emails. The email should be short, to the point, and should clearly convey the message. Emails regarding new blogs on the website or new products available are a great way to engage with the customers. Alerts regarding discounts or offers may also be sent by email to the customers.
Optimization for Voice Search
Voice search is one of the most convenient ways to search. It is basically a dialogue system. Due to the growing popularity of voice search, voice search optimization is very important. The difference is that the keywords for Voice search are different than the usual ones. These keywords are more conversational and lengthy. For example, if you are typing you may type something like best 'online grocery stores Pune' but while using voice search you may say something like ' Hey Alexa, which is the best online grocery store in Pune'. So the longer and conversational keywords have to be taken into consideration while voice search optimization.
Online Advertising
Online Advertising is one of the most efficient ways to reach out to a large audience. The paid advertising or pay-per-click advertising is one of the most common ways of online advertising. Paid social advertising is also a way by which your brand can be advertised on social media platforms like Facebook and Instagram. Paid search and paid social advertising combined together can be a very effective way to maximize your return on investment, reach new customers, and diversify your business.
Facebook & Instagram Ads -
Facebook and Instagram are two of the most used social media platforms today. Therefore, brand visibility on these platforms cannot be ignored. Now, Facebook advertising and Instagram advertising is linked as Instagram is basically owned by Facebook. The wide user base available on these platforms will be very beneficial for your business.
Google Shopping Ads -

Google Shopping Ads are also known as Product Listing Ads are an efficient way to promote your products. These Ads are product-based ads that show up for product searches across Google and Google Shopping. They basically show the image of the products, the price of the product, and the brand of the product. These ads are effective because they reach the shoppers' specific-search queries with clickable images at the very top of the search results. For example, if you search 'fruits online' you may see top Google shopping ads of the products from a grocery store.
YouTube Ads -

YouTube is the largest video streaming platform worldwide. It is easier to get the attention of customers and keep them engaged in videos rather than in textual modes of advertising. A customer can know about your business faster and in an efficient way by watching videos. YouTube ads can also be set up ads to be played whenever a user starts watching a video relevant to your domain.
Offline Marketing for Grocery
Grocery marketing also consists of offline marketing. Even though offline marketing is not as effective as online marketing, there are some good marketing strategies available in offline mode too. Grocery marketing strategy in the offline mode is as follows: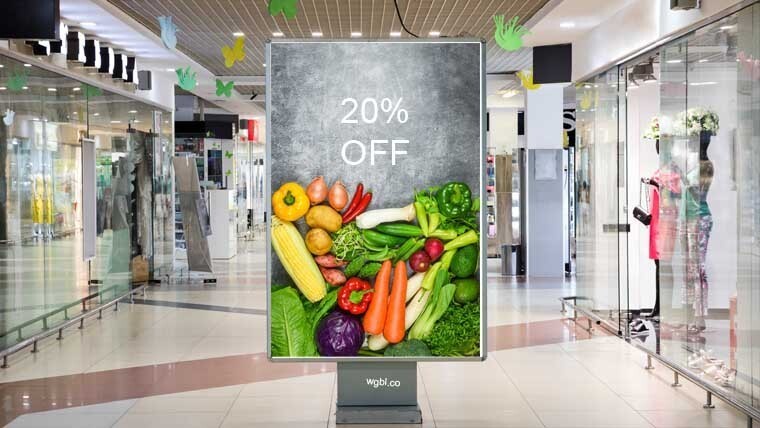 Local TV Advertising
Television advertising is costly as compared to other modes of advertising but it is also very effective. You may have to create a slogan or an emotion triggering advertisement in order to get excellent results. TV advertisements sometimes take off very well and later become the identity of the brand. Advertising on national television is effective but in order to target local customers, one should definitely advertise on local TV channels. The target audience of your grocery store are the people in your local area and therefore they should be targeted first.
Hoardings & Banners
Hoarding and Banners are also a good method to market products in an offline mode. These banners and hoardings generally use more pictures rather than text. The pictures should be created in such a way that it should grab the attention of the viewers immediately. Placing the hoardings and banners in strategic locations is also necessary for the best results.
Newspaper Advertising
Even though newspaper advertising is a more traditional method of advertising, it is still very effective. Giving advertisements in the newspapers can, therefore, be an effective way of marketing your grocery store offline. Now, most of these newspapers are also available in the online mode. The ads should be given strategically to get the best results.
Branded, Reusable Shopping Bags
Using Branded and reusable shopping bags is a great way to spread the word. You can design a simple but attractive looking reusable bag for your brand. When your customers carry this bag around, it basically spreads the word about your brand. It also shows that you care about the environment and thus stand by the cause of using reusable bags.
Providing excellent services and supplying fresh products in a timely manner is necessary for the reputation of your online grocery brand. But promoting your brand through various platforms also cannot be ignored. Due to the immense competition in the grocery store business, proper online and offline marketing strategies are essential. A combination of these strategies according to the nature of your business should be used in order to get the best results.
WGBL India Pvt Ltd is a leading digital marketing agency with extensive experience in performing online and print media marketing for various online grocery stores across the country. If you wish to increase your visibility and boost your customer reach, contact WGBL today.